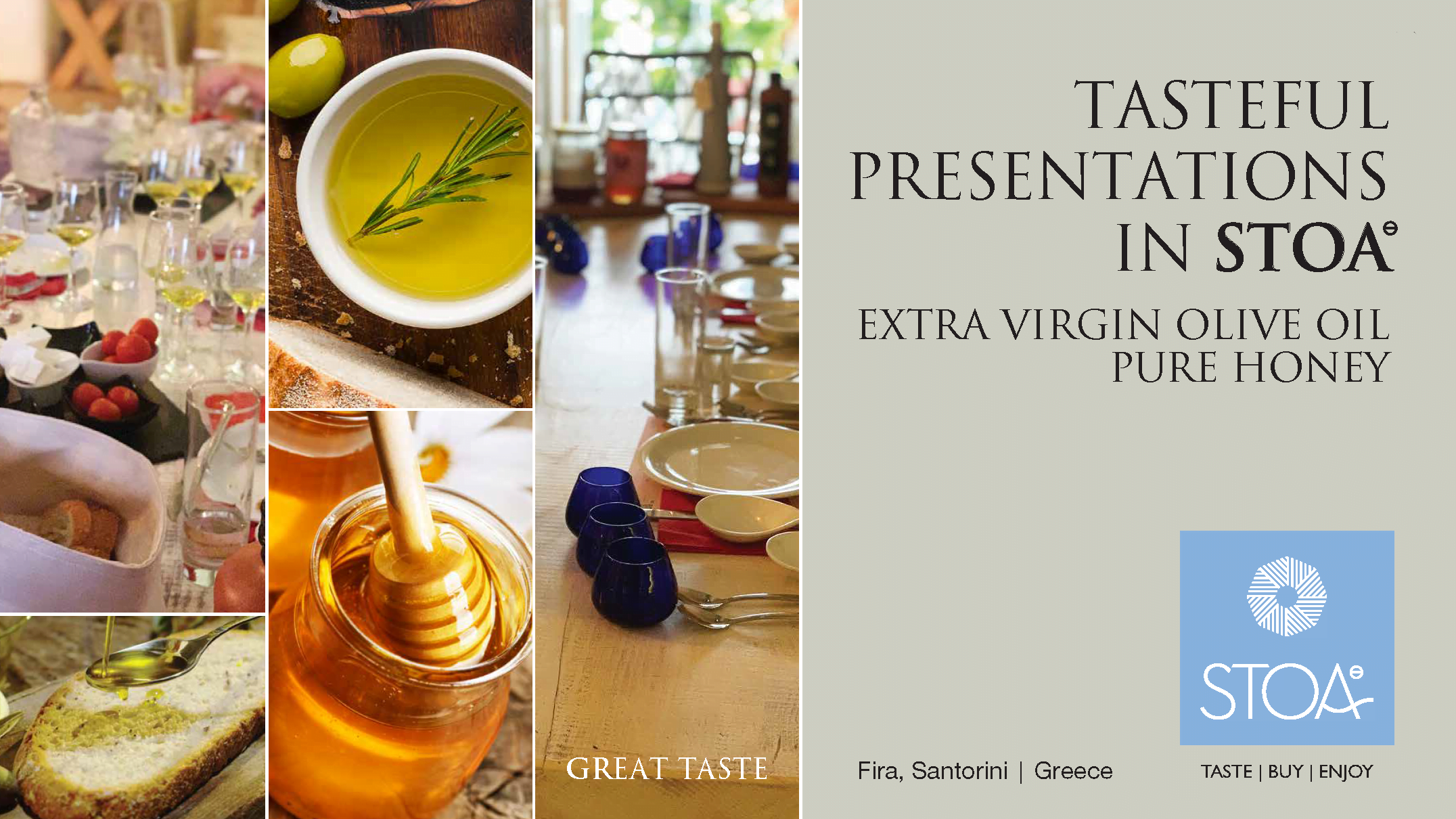 Olive Oil Tasting
Book Now
There is no better way to relax in Santorini than to visit our three underground caves (canaves), located in the center of Fira, and taste a selection of extra virgin Greek olive oils and honey!
Here you have the unique opportunity to learn about the honeybees and enjoy a wide variety of flavors, tastes, and aromas found in the most exquisite origin honey and extra virgin olive oils from all over Greece – served of course with little greek delis and the famous greek "raki"!
We have olive oil and honey tasting every day* from 13:00 to 14:30.
The Extra Virgin Olive Oil and Honey tasting is performed at Stoa Santorini Bar Restaurant all year!
Don't miss it!
Book now and receive a 10% discount on your booking automatically applied on checkout!
Limited Availability
Hours are displayed in the Athens time zone (EEST)

Reception at STOA Bar Restaurant: Our guests will be seated at tables where they will be served a variety of organic extra virgin olive oils and two types of honey: flower honey and pine honey.
During the event, there will be a presentation about the harvesting, production, and tasting of extra virgin olive oil, and guests will have the opportunity to taste each one accompanied by crackers, breadsticks, cherry tomatoes, feta cheese, and Greek traditional cold cuts. Raki, the local traditional drink, will also be available for tasting.
Please note that our bar-restaurant is located exactly underground in the main square of Fira, next to the fish spa.
The owner, who was born in Thessaloniki and has been living in Santorini with his wife and daughter for the last five years, has studied agriculture and owns two all-day bars. He loves travelling and has visited many countries around the world.
The owner is excited to initiate you into the world of Greek olive oil and honey tasting, which he has been doing for years.